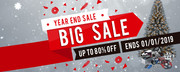 Year End Sale!
Save big time, check out our Year End Sale, discounts up to
80% off
original prices.
We update our sale daily, so keep an eye out for the latest deals. All discount items are in stock, but for some parts stock is limited.
When it's gone, it's really gone and the price will change back to normal immediately. Happy shopping!
GO TO OUR SALE >>>
We have lowered our shipping cost, now 17,95€ to Italy